What can you do to treat a case of fluctuating emoluments?
Join Barnett Waddingham's James Jones-Tinsley as he takes us on a third exploration of old pensions jargon for paraplanners – that's what.
James joins host Richard Allum to shed light on acronyms and concepts that paraplanners may encounter in the wild including FURBS, UURBS, cash balance schemes, the difference between final salary and career average, CARE, fluctuating emoluments and straddling PIPs.
Didn't catch the previous two episodes in James's popular plain English trilogy? Scroll down in a moment and help yourself.
In part one, which was recorded in May 2022, James covers s226, s32, AVC, FSAVC, EPP, GMP, with profits annuities, GAR and SSAS.
And in part two, he lifts the lid on UFPLS, NMPA, master trusts v deeds, SERPS, S2P, QROPS, ROPS and TIEA. This episode was recorded in January 2023.
This bite-sized Assemblies is available as a podcast episode too. You can listen now on Acast or search 'Paraplanners' Assembly' in your favourite podcast app.
Part one
Part two
Meanwhile, in part one, he covers s226, s32, AVC, FSAVC, EPP, GMP, with profits annuities, GAR and SSAS.
Host Richard Allum was joined by experts Rachel Geary and Murray Smith from Barnett Waddingham for a lunch-hour session exploring what clients need to know if they want to invest in property as part of their pension
Together, they covered the technical, regulatory and legal issues that influence pensions and property, and served up really valuable insights along the way.
Among the topics covered were:
Why buy a commercial property with a pension?
SIPP vs SSAS. What, why and when?
Rules about property in a pension
Technical and legal things to know about investing in commercial property with a pension
FAQs. Which things crop up time and again?
What can go wrong – and how to avoid it happening
Listen now
James Jones-Tinsley of Barnett Waddingham joins host, Richard Allum, for a second short video in which James translates old pensions jargon into something more understandable for today's paraplanners.
Want to see Part One? Here's the link: A plain English guide to old pensions jargon: Part One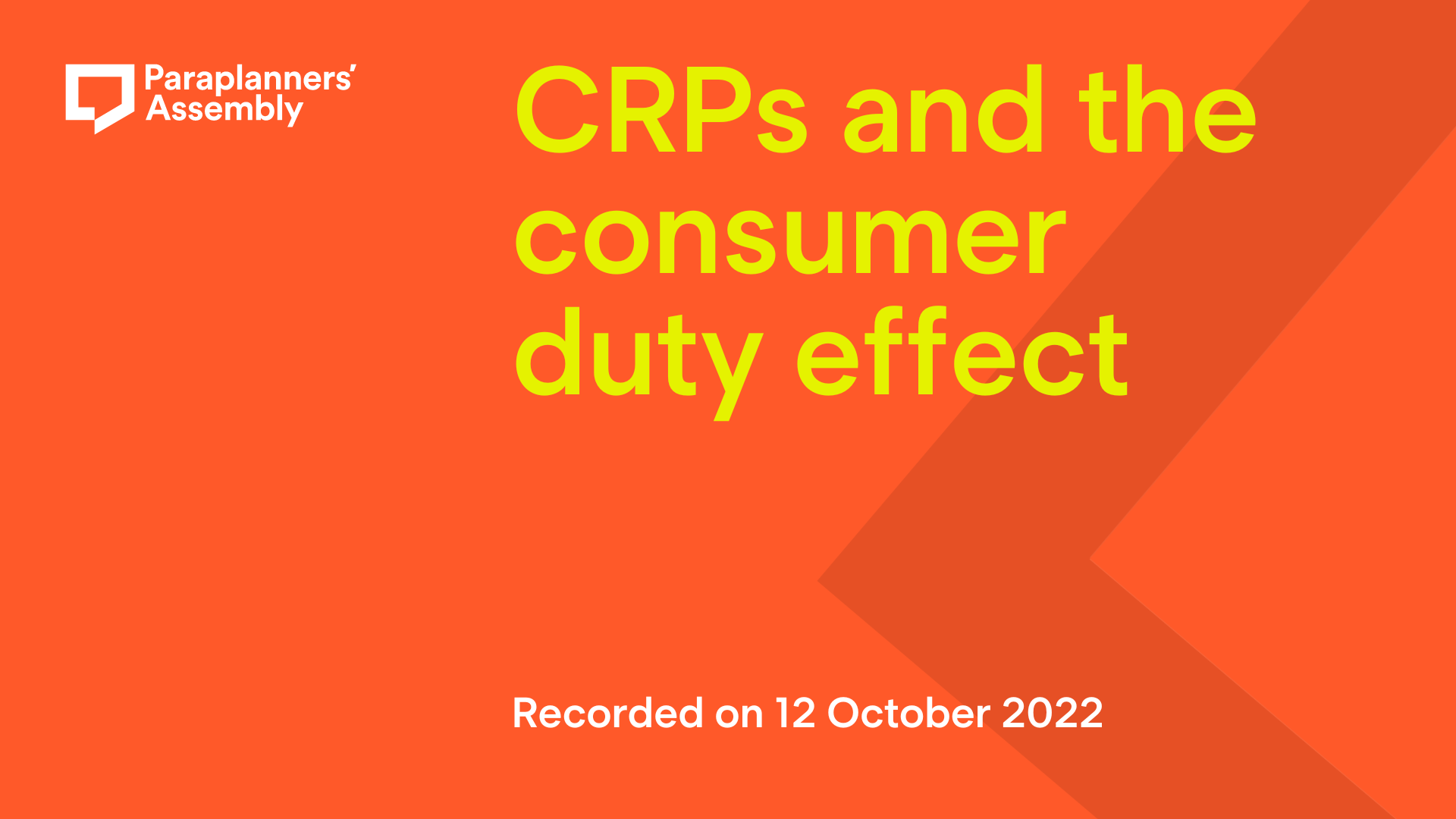 Heather Hopkins of NextWealth and Andrew Nash from Pru joined host, Richard Allum, for an online Assembly at 1pm on 12 October 2022.
During the hour-long event they covered the emerging trends in CRPs including thoughts on the effect that consumer duty is having on propositions.
They also covered other topics such as whether secure income is making a comeback and insights into client perspectives on the information that advice professionals provide to them.
From now on, there's no need to visit Crowdcast to save your spot at an online Assembly. Just tap 'Book event' and follow the step-by-step instructions.
Broken link or duff information?
If something's not quite right on this page, please tell us what you spotted now at our bug list.
You don't come across SSAS very often, but when you do you need to know what you're doing with them. We can help with that.
Learning Objectives
During the session we covered…
Who they are suitable for?
How they work – SSAS
SSAS versus SIPP
Loan back and self investment
Planning tips
Brian Radbone of Transact and Richard Allum of The Paraplanners discuss how new regulations designed to prevent pension scams will affect advice professionals and providers dealing with pension transfers.
James Jones-Tinsley of Barnett Waddingham and Richard Allum pick their way through the potpourri of jargon associated with old pensions contract.
James Jones-Tinsley of Barnett Waddingham and Richard Allum pick their way through the potpourri of jargon associated with old pensions contracts.
State Pensions are an important part of many peoples' financial plansplans and in this video we explore the considerations.
Learning objectives
In this session we covered…
How state pension age has changed and further proposals to amend Comparison of old State Pension and new State Pension
What will your client get?
What are the differences?
How the State Pension is Accrued
Foundation amounts
Qualifying National Insurance credits and pitfalls to avoid
Working and retiring abroad
State Pension death benefits
Differences between old and new state pension
Guiding your client through a State Pension forecast
Assessing what your client may get
Eligibility and cost of topping up state pension
Considerations before topping up state pension
State Pension deferral
Comparison of old State Pension v new State Pension rules
Who can defer?
Considerations for deferring and alternative options
This video covers the essentials for those of you trying to get your head around Centralised Retirement Propositions, or are some way along the journey of implementing one.
Learning objectives
In this session we covered…
What is a CRP and how is it different to a CIP?
The context to CRPs including PROD, the Retirement Suitability review and Dear CEO letters
Where a CRP can help
How firms use CRPs
What can you include in your CRP