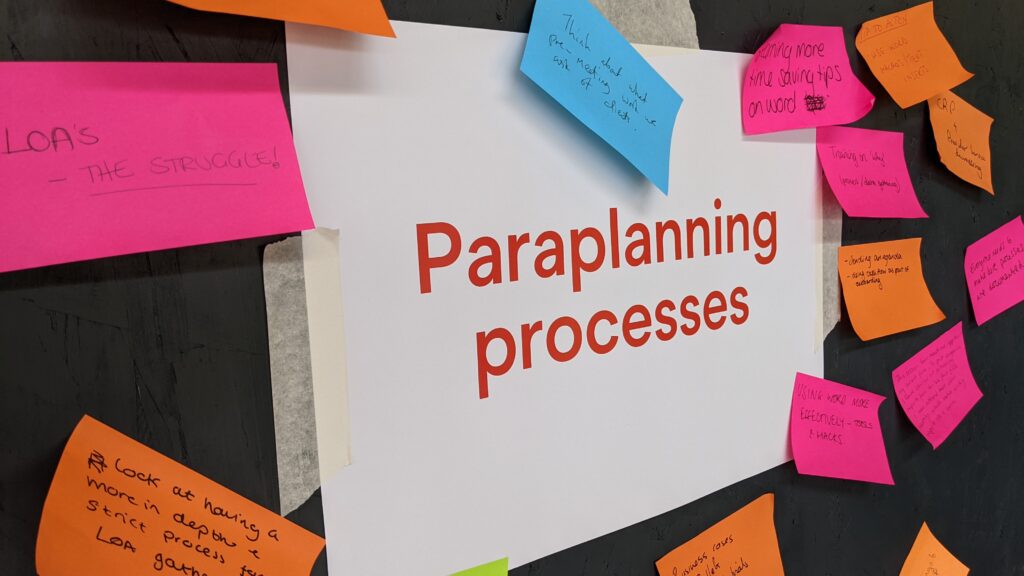 For more than a year, and inspired by a suggestion by Tamnna Jethwa, the Paraplanners' Assembly has been hosting a regular gathering for a small number of paraplanning team leaders and managers.

Meeting online every 4-6 weeks, the sessions give participants the chance to talk about the issues and topics that they share in common and influence their work. We've invited Becca Timmins – who facilitates the group – to share the conclusions they reached at a recent gathering on a topic close to paraplanners' hearts: report preparation.
"The handover from advisers or planners to paraplanners when preparing reports."
That was the answer recently offered by team leaders to this question 'If you were to think of a process that needed to improve, what would it be, and how would you improve it?'. So we decided to dedicate some time in our latest meeting online to consider it.
Having led a paraplanning team in the past myself, it's a process that I know team leaders (and paraplanners) continually seek to improve. And it's a process that can often leave adviser and paraplanners alike feeling frustrated.
Because whether it's a lack of available data or delays in getting hold of additional information, preparing reports can often become a complex process – when, in practice, it ought to be possible to keep it simple.
So what steps can you take to make it simpler?
In a moment, I'm going to share the five steps that our group concluded could help fix things but – first – it's important to be clear about terms.
What's the difference between a simple and a complex process?
A simple process is where you have all the information you need to gather your information, write your report and issue the report.
But when something is missing, the report process grinds to a halt, and it soon becomes a complex process.
A complex process involves additional steps such as logging missing information, chasing a consultant for information, diarising reminders and so on.
During this time, your brain is taking a journey: switching from one task to the next that involves various levels of starting, stopping, focus and switching – resulting in an as much as 20% loss of time, productivity and efficiency.
And applies to each project that's complex so, the more complex projects you deal with, the less time you're able focus on other projects.
Here are our key tips to 'keeping it simple' that we wanted to share with you
1. Get collaborative
The collaboration between an adviser and paraplanner is essential to complete a report, including understanding the information requirements to briefing process.
Both parties must work together to gather the data and information that's needed to compile the report, either by working through the meeting notes or the paraplanner attending the client meeting themselves.
2. Keep it fresh
Diarise time to discuss the case with the adviser after their client meeting, so that information remains fresh. This will also provide help the paraplanner to complete the report, perhaps with a quicker turnaround (a win win for everyone!).
3. Make a checklist
Reduce the reliance on the adviser to check information.
Use a checklist to double-check all information is received so that the case is ready to be written, preventing any issues later on. Run through this at the briefing and highlight missing areas or information that wasn't recorded.
4. Make sure everyone understands their role
The team should be familiar of each person's responsibility in delivering the report. This helps to source and deliver the information in good time, and to understand the impact of delays.
5. Create a single 'source of truth'
Establish one location where all information is stored so that it's easily accessible and avoid the need for repetition.
The key takeaway from this session was the importance of collaboration between consultants, advisers, planners and paraplanners – especially when completing reports.
Would you like to learn and share more?
If you liked that, here are three things you can do right now which we think you might like too.
Take part in a power-up workshop

Becca Timmins is facilitating Personal development power-ups for Paraplanners – a 3-hour online workshop on 12 May.

» Book now
Share ideas in The Big Tent

Post questions, offer suggestions, and share your experience and expertise with other paraplanners in our discussion board: The Big Tent.

» Join the conversation
Meet up with other team leaders

Team leader? Then you can join our sessions too. But there's a waiting list. To join it, tap the link and post a message at The Big Tent thread.

» Visit the thread
As paraplanners enter their busiest time of year, we invited Transact's head of technical services, Brian Radbone, to share his top tips as we hurtle towards the 5 April tax year end deadline.
In just 13 minutes host, Richard Allum, and Brian cram in top tips covering pensions, income tax, ISAs, CGT, bonds and IHT.
Recorded on 2 March 2023
New to paraplanning? Taking part in the Big Day Out on 15 September (or thinking about coming along)? Then we've got JUST the thing for you because Siân Davies Cole and Kimberley Malin will be hosting an informal gathering for new paraplanners over the long lunch break at the event.
The optional session will give you the chance to
ask the questions you might have been itching to ask but weren't sure who could help;
pick up hints and tips;
gain confidence and know-how; and
to meet other paraplanners who are in the same boat as you and – who knows? – could become great travelling partners on your path into paraplanning.
Your hosts offer exactly the right blend of experience from BOTH ends of the professional journey.
Siân will already be very well known to many paraplanners. A director of Plan Works and co-founder of The Paraplanner Club, Siân counts as one of the most experienced and influential paraplanning leaders working in the UK today.
If you haven't already encountered Kimberley on LinkedIn then now's your chance to say 'hello' in person. After amassing great experience since 2013 as an Administrator with Four Oaks, Tilney and Plan Works, Kimberley returned to Four Oaks in June 2021 and, in January this year, was appointed as a junior paraplanner –her first role entirely dedicated to paraplanning. Follow her on LinkedIn and you'll see that Kimberley's 'on a mission to become the ultimate paraplanner' – she'd love you to achieve that too.
New to paraplanning and want to take part?
If you're at the Big Day Out and Siân and Kimberley's session sounds like just the thing for you, their session will start at 1:15pm. If you'd like to go but haven't grabbed your ticket yet, don't leave it too late. Follow this link to book your ticket now ➔ Big Day Out 2022 tickets
The announcement of Siân and Kimberley's session follows the news that Sarah Lees and Jonny Stubbs will be co-hosts of the event when it gathers at FarmED in Oxfordshire on 15 September 2022.
Three technical experts answer a whole range of technical questions asked by paraplanners.
Learning objectives
During the session we covered…
How does the National Insurance increase impact salary sacrifice pension contributions?
How are bond withdrawals taxed after 20 years?
Will the cut to income tax affect onshore bonds?
Trends: What technical issues are the experts seeing in their inboxes, and how do they answer them?
Tax issues
Like a good research and analysis tool? Ever wondered what other people are using? Well, now is your chance to find out as our panel share what tools we like and those we don't like.
Learning Objectives
In this session we covered…
Tools, websites and resources for:
Fund research
Wrapper and product research
Financial planning
Technical research